[Lecture]Behavioral Finance
Topic: Behavioral Finance
Time: 18:30-20:30, May 6th, 2016
Venue: Room 301, No.6 Building, Hongkou Campus, SISU
Abstract:
Psychology plays a big part in investing. Understanding the psychological motivations can help investors avoid financial pitfalls. Behavioral finance aims at understanding -and to a certain extend preventing- the very frequent psychological biases that influence, mostly negatively, the performance of an investor's portfolio.

This lecture is intended to shed light on the emotional and psychological influence that can impact financial decisions and how this influence can result in irrational behavior. It also explores how to avoid the pitfalls that investors commonly face.

After this lecture you will understand the main psychological biases (anchoring, overconfidence, selective perception, herding effect, etc.) that negatively affect our decisions. The lecture is open to everyone interested in psychological phenomenons, is very accessible to all, there is no prerequisites in finance necessary.

Speaker: Jean Pfeifer
Academic Credentials:
Degree in Economics (Univ. Lausanne), MSc in Business Economics (UC Berkeley), MAS in Human Systems Engineering (Unv. Applied Sciences, Lausanne), Swiss Federal Advanced Diploma in Corporate Training.

Work Experience:
More than 20 years of experience in Private Banking, Desk Head, Trainer (banking & finance), Training Manager (Wealth Management), Talent Manager, Sales Manager Private Banking.
His career started in Geneva (UBS), then Zurich, Singapore, Tokyo and then back in Switzerland.
He teaches for various institutions and business schools like the Institute of International Finance (IIF, Washington DC), HEC Paris, NEOMA, IUKB (MBA Banking & Finance), AKAD Banking & Finance, Geneva Institute for Studies in Banking and Finance (ISFB), etc.

Jean Pfeifer has created training in Behavioral Finance for two very prestigious Private Banks in Geneva and Zurich, for which he trained all private bankers on that topic.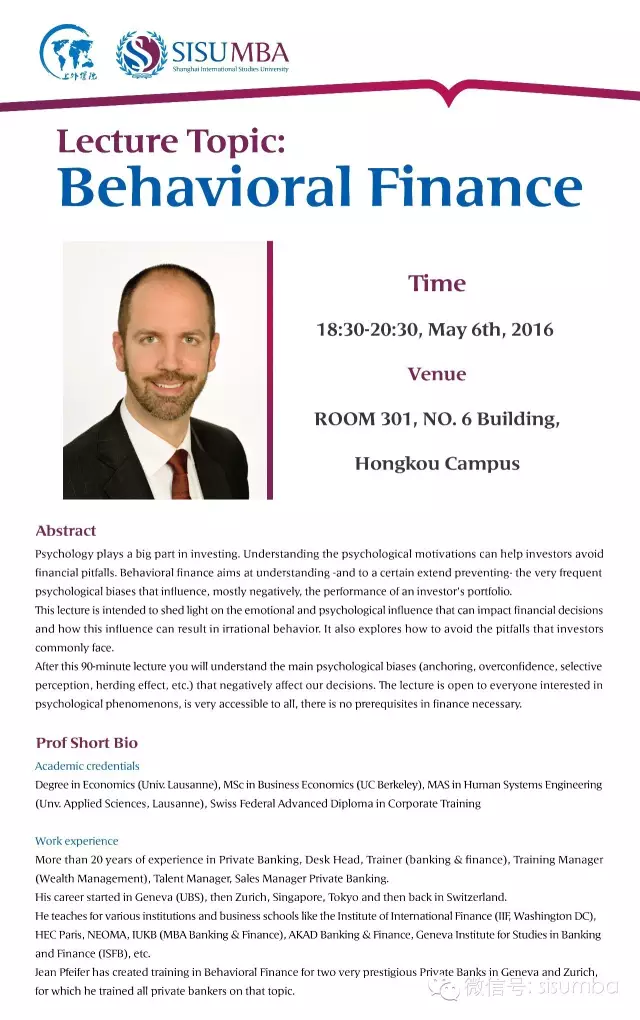 相关阅读

上海外国语大学MBA项目 电话:021 3537 3308
上海虹口区大连西路550号 邮箱:admission@shisu.edu.cn
上海外国语大学6号楼205室 邮编:200083